An advance Perso-Arabic typesetting tool for Adobe InDesign
Manzar Perso-Arabic Typesetting Tool is the unique typographic Plugin that the ever-changing publishing world has been craving for since long, but for various reasons particularly on the R & D front, this thirst could not be quenched at that time. Despite this, Manzar mocked negativity and remained religiously involved in creating user-friendly softwares to benefit Perso-Arabic publishing industry.
There has been a void, strongly felt vacuum in Urdu publishing industry. It has not seen any significant change in the way the text is being produced, either in newspapers and magazines or in books, posters or brochures etc. Manzar improves on the richness of your text in Adobe InDesign on Windows and Mac.
What could Manzar be used for?
Manzar works with all right-to-left languages. Manzar makes your Urdu, Arabic, Persian, Kashmiri, Pashto, Hazargi, Saraiki, Sindhi layouts look extremely attractive and elegant. It provides all the tools which enhances the text altogether. It has a unique feature of Nuqta and Aerab-mover which enables you to select the Nuqta and Aerab to reposition it. It also has different variants of Kasheeda for Nastaliq. It provides different shapes of one letter. One can extend the Kasheeda as per one's wish. Its uniqueness also lies in the feature which allows users to track and kern every word, to be more precise, every ligature and re-position as one wishes. For the first time in about the last three decades, Urdu typesetting will witness a sea-change in the way text, small and big, is being treated. It would do wonders, literally, for graphic designers, layout artists, publishers, marketing professionals, advertisement agencies, television and films. You can use Manzar to create virtually any kind of print or digital format – flyers, brochures, presentations, magazines, newspapers, posters, banners, logos, headlines, business cards, postcards, stickers, comics, newspapers and books. You can also publish content specific to hand-held devices and tablets, YouTube videos, film and TV titles. Manzar enables its users to use a wide range of fonts that comes with it and fully take advantage of its typographic features, namely Ali Nastaliq, Arif Nastaliq and Manzar Quranic Naskh.
Why will you love Manzar?
Manzar gives its users the creative freedom and richness of typography, and improves precision and speed. Unique features of Manzar.
Allows you to select even the smallest thing like Nuqta and Aerab and reposition it as per your wish.
With its selection panel, selected words are broken into single letters and then, the user can select each component of it, i.e. Nuqta, Letter, Aerab to design as per his wish.
It also has different variants of Kasheeda for Nastaliq.
Users can track/kern every word, every ligature and reposition it.
In-built Urdu dynamic Spell-checker which hitherto is seldom available on Urdu platforms. It carries more than 2.5 lakh words.
One word carries many shapes in Perso-Arabic script. You can create multiple shapes from one. With its feature 'Manzar Shaping Words Panel', you can find dozens of combinations to choose from.
Transliteration from Urdu to Hindi and vice-versa as well as transliteration from Urdu Roman to Urdu and vice-versa are one of the alluring features.
Detailed readymade Quran glossary available which can be called and re-designed.
Symbol panel of commonly used words. All Quranic symbols included to give the user a hassle-free typing experience.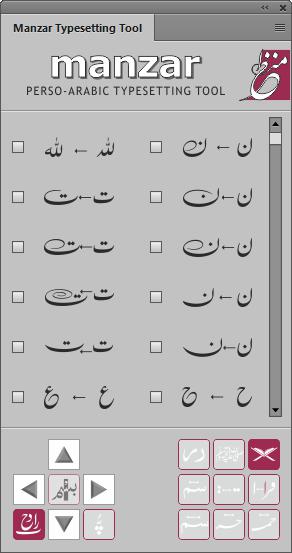 Manzar Quran Glossary Panel
Earlier, the composition and layout of Holy Quran in Indian subcontinent used to be a tough nut to crack; confronted numerous hiccups as there weren't state of the art technology during those days to compose the Quranic text. One has to hire expert calligraphers to address the problem - thus escalating composition costs manifold. Currently, the market is flooded with a glut of software supporting Quranic composition. But none of these claim to support the extent of calligraphic nuances which the Manzar Perso-Arabic Typesetting Tool provides. The entire Indo-Pak Quranic text is integrated in plugin; the users have options either to select the complete Quranic text from the 'Quran Glossary' panel or single Surah, multiple Aayat or even a single Aayat from the panel. Simply click on the 'Quran Glossary' on Manzar Typesetting Tool and select the desired Surah or Aayat. The plugin contains all the necessary ingredients - Aayat Circle, Ruku and other recitation symbols that are required to compose the Quranic text. These symbols can be easily inserted through the 'Symbol Panel' option on the Manzar Perso-Arabic Typesetting Tool. The Manzar Perso Arabic Typesetting tool also includes a large collection of high quality borders and Arab-oriented cliparts.
KASHEEDA
In Anglo-Saxon languages, justification is defined as the typographic variation where the text in a column is aligned on both the right and the left side. Adjustment of word-spacing is engineered using a keyboard or mouse to accomplish this. Each word in a sentence remains equidistant to provide all sentences the same length. On many occasions, it becomes imperative to increase spaces between words to justify alignments - creating the so-called 'white rivers'. But unlike Latin and English, Perso-Arabic languages can't afford 'white-rivers' and hyphenation (breaking up words). Here, these are replaced by an additional feature called Kasheeda (Tatweel). Kasheeda implies character elongation and word-spacing variation. In classical Perso-Arabic calligraphy there used to be multiple ways to apply Kasheeda - most often used to decorate the text. On many occasions, elongated letter connection is provided a slight curve when stretched - making it appear calligraphically beautiful. One can't use Kasheeda randomly, rather there are elaborate rules for using specific letters in specific positions. Today, most Perso-Arabic fonts have a Kasheeda in only one fixed length and one position on the keyboard. Longer Kasheeda are created by putting more Kasheeda behind each other. In the Manzar Perso-Arabic Typesetting Tool, Kasheeda is not only used to justify alignment, but it also provides elegance to the text. The Perso-Arabic languages in Adobe InDesign suffer from justification-handicap. Users should avoid selecting Optical Kerning on the Character Panel for word-spacing because this breaks the letter connections apart. In Manzar there are two different types of Kasheeda on the panel - long Kasheeda and short Kasheeda. One can use it to select either a single word to lengthen it or replicate it for the same word or multiple words in the entire text.
TEXT CARVING
The 'Text Carving' tool is highly versatile and user-friendly. It is a decorative function of Manzar Perso-Arabic Typesetting Tool, that alters the shape of a particular character in the entire text box or alternatively this change is restricted to a selected word depending on the requirements of the user. There are twenty different calligraphic styles to beautify the text. If the user either needs a particular calligraphic style for a selected character or replicates this change in the entire text box, he is required to visit the 'Text Carving' section in 'Manzar Typesetting' Panel and select the desired style. Through this 'Text Carving; function multiple characters can be simultaneously selected and styled into the desired shapes.
Position Adjuster
The 'Position Adjuster' is a prime feature of the Manzar Perso-Arabic Typesetting Tool. In Perso-Arabic script, the positioning of Word, Character, Nuqta and Aerab play vital roles as this gives meaning to the text. Besides this, it also provides an aura of aesthetic beauty and calligraphic excellence to the language. The 'Position Adjuster' function enables users to reposition selected Text, Nuqta and Aerab according to one's requirement. The 'Position Adjuster' allows users to either click on arrow buttons in Manzar Panel or manipulate through the keyboard via shortcut keys to bring about the desired changes. Thus, it intelligently manoeuvres spacing, kerning and generates calligraphic look. The 'Position Adjuster' empowers users to shift the positions of either single character or the entire word with or without Nuqta and Aerab in the desired directions, i.e., up-down and left-right.
Manzar Selection Assistance Panel
Earlier, in Adobe InDesign, it was very difficult to select any particular Character, Nuqta or Aerab in Nastaliq or Quranic text; the 'Selection Assistance' in Manzar Perso-Arabic Typesetting Tool has removed this glitch. The 'Selection Assistance' helps to select a Character, Nuqta or Aerab from the text. Post selection, the users can reposition selected ones via 'Position Adjuster'. If the user wants to select a particular Character, Nuqta or Aerab, one is required to highlight an entire word and then click on the 'Adjust Nuqta and Aerab' button or alternatively right click the mouse on highlighted word and select 'Adjust Nuqta and Aerab' function. Now the entire highlighted word will appear in the 'Selection Assistance' panel. Thereafter the user can select any particular character, Nuqta or Aerab in the panel via position adjuster for repositioning. If one wants to reposition a single character, he is required to enable the 'Adjust Letter' button on the Manzar Typesetting Tool panel. But if one wants to reposition Nuqta or Aerab he is required to enable the 'Adjust Nuqta + Aerab' button on the panel. After accomplishing this, the user may reposition via 'Position Adjustor' or alter color of the highlighted character, Nuqta or Aerab, thus making the text meaningful besides giving it a touch of calligraphic excellence.
Manzar Symbol Panel
Symbols in Perso-Arabic script play a major role and are mandatory in Quranic publications. There are certain symbols in Perso-Arabic languages which are needed quite-often in textual writings or to decorate the text. In Adobe InDesign the user has to browse through a huge Symbol set of OpenType fonts for just a few obscure symbols one often needs. This dissipates the user's time and energy. Manzar Perso-Arabic Typesetting Tool has come out with a separate Symbol Panel which contains only those symbols which the users repeatedly require. In this panel there are plenty of symbols which are used on specific occasions. The peculiarity of this tool is that here the user gets symbols of that particular font on which he is working. The Manzar Symbol Panel has made it easy to identify and select the Quranic symbols. They are placed under different categories. If the user is doing pagination of the Holy Quran, these symbols are readily available in the Panel: Para Name:
Sura Name:
Ruku:
Quranic Symbol:
Besides, there are thousands of general symbols which are widely used in Urdu publishing world. They are kept under a separate category called General Symbol. Here's how it works…
Open the Symbol Panel by choosing Manzar > Symbol Panel in InDesign menu or click on Symbol Panel button on Manzar Typesetting Tool. Using the Type tool, click to identify the insertion point where you want to insert a symbol. Browse through the display of characters until you find the symbol you want to insert. Click on the symbol twice which you want to insert. The symbol appears at the text insertion point.
Manzar Shaping Word Panel - Coming Soon
'Shaping Words' is a function that lays out all the conceivable calligraphic alternatives for the selected word. Earlier in Nastaliq, users frequently confronted the dilemma of condensing or expanding words in order to conform to the textual alignment. Manzar Typesetting Tool has removed this handicap and introduced the 'Shaping Words' function in Nastaliq and Naskh on the panel. The panel contains all the possible shapes - some expanded ones while the others endowed with condensed configurations. The 'Shaping Words' function employs both - all the calligraphic styles of Kasheeda tool as well as all the possible shapes in 'Word Carving' function. Thus, it's considered as a tool that not only provides symmetry but gives calligraphic look to the text. If the user wants another shape of a selected word, he is required to highlight an entire word and then click on the 'Shaping Words' button or alternatively right click the mouse on the highlighted word and select 'Shaping Words' function. Thereafter, the 'Shaping Words' window appears with maximum combinations of words from where you enjoy liberty to select the one for the desired changes.
Spacing Tuner
Manzar Typesetting Tool has an additional feature for Nastaliq lovers. This is a Spacing Tuner which has an inbuilt mechanism to readjust spaces between words and characters. This is accomplished by analysing every single individual stage and creating a clear and limited set of Nastaliq kerning rules (Manzar Kerning Technology).
Transliteration Panel - Coming Soon
Transliteration has brought much sought after relief to the publishers. Earlier, it was an uphill task and every writer and publisher desperately longed for a solution that could overcome this hiccup. They were either resorting to online transliteration tools or manually done by hiring professionals. Manzar Typesetting Tool has included a peculiar Transliteration Panel that successfully plugged this lacuna. In this panel a user can easily transliterate from Urdu to Hindi and vice-versa as well as from Urdu to Roman and vice-versa.